Why Malta Direct?
No hidden extras
Great value offers
Malta Direct Price Promise
Many more reasons >>
What's included in my holiday?
Direct return flights
Checked-in baggage (unless otherwise stated)
Transfers (unless otherwise stated)
All duties and taxes (unless otherwise stated)
Malta Direct representatives
FREE attraction entry
FREE and reduced child offers
ABTA & ATOL protection

Want your holiday to go on forever? Now you can with our long stay discounts. So many of our clients love nothing better than spending the long winter months in Malta, as a result a number of our generous hoteliers have rewarded your loyalty with a superb range of long stay deals
• Our 3 weeks for the price of 2 is a fantastic offer, you just pay for 14 nights and you receive a further 7 nights absolutely FREE! The 7 nights are normally on a bed & breakfast, with the option to upgrade your meals if you wish
• Stay longer, pay less - stay at your chosen hotel for 15 nights or more and enjoy discounts on the nightly rates. You could save up to 100's of pounds – and the great thing is that the discounts apply to your entire stay so the longer you stay the more you will save!
• Other great long stay discounts, include FREE room upgrades, reduced rates on a half board stay
Escape the winter blues with our great long stay holidays!
What's included in your holiday?
Return flights
Accommodation
Return transfers
In-resort rep
Attraction entry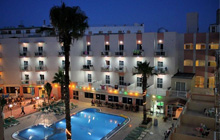 3* San Pawl Hotel | Bugibba
• Outdoor pool & terrace • Indoor pool
• Regular entertainment • Gym • WiFi available
23/08/2017 | 28 nights | Bed & Breakfast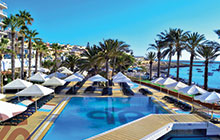 4* Qawra Palace | Qawra
• Seafront location • Outdoor pool • Free WiFi
• Central location • Perfect for all age groups
19/09/2017 | 35 nights | Bed & Breakfast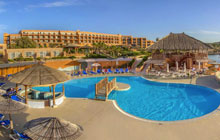 4* Ramla Bay Resort | Ramla
• Private Beach • Spa • Perfect for families
• WiFi • Mini Market • Choice of pools
01/10/2017 | 30 nights | Bed & Breakfast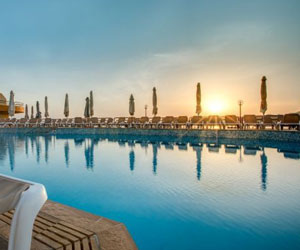 4*Seashells Resort at Suncrest | Qawra
• Family Friendly • All inclusive option available • Spa
• Wellness centre • Watersports facilities • Free WiFi
01/11/2017 | 46 nights | Half Board Plus